Examining for foot pulses
This video demonstrates how to examine for pulses in the foot. This technique forms the cornerstone of a basic vascular patient assessment to examine for the presence of peripheral arterial disease.
_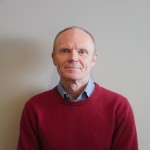 Pr. Neil Baker
Neil Baker is a Consultant podiatrist, who qualified in 1980 and has gained Fellowships from the College of Podiatry and Royal College of Physicians and Surgeons  (Glasgow). . He is a key opinion and policy leader within the UK and has been actively involved in diabetic foot management since 1982. He has published extensively in many key scientific journals and sits on several editorial boards, reviews papers and documents for N.I.C.E, Dept of Health, Cochrane Library and the College of Podiatry. He lectures at national and international meetings and teaches/examines on several post-graduate/MSc courses both nationally and overseas. He currently is employed at Ipswich Hospital NHS Trust as clinical lead for the Diabetic Foot service, which has one of the lowest reported amputation rates worldwide. Previously he led the diabetic foot service in Southampton and was a Clinical tutor/examiner in the School of Podiatry. He has been an active team member of the IDF's "Step by Step" diabetic foot training programme since 2005 and one of the founders and teachers of "Train the Foot Trainer" programme. He has also trained diabetic foot teams in many countries worldwide. Amongst several awards he recently was presented the prestigious "Alf Morris" award at the House of Lords in recognition for his outstanding diabetic foot work within the UK and worldwide.