Dr Kristien Van Acker
| Belgium
This slide presentation will give you the background philosophy and information of the IWGDF together with this e-learning package.
[stats_efc]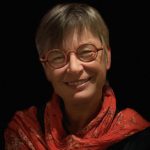 Dr Kristien Van Acker
Kristien Van Acker completed her internal medicine/ diabetology training in 1989 at the University of Antwerp. Where she founded in the same year the first multidisciplinary Diabetic Foot Clinic for Belgium.Her PhD thesis titled "The Diabetic Foot a Challenge for Policy Makers and Health Care Professionals". Since 2001 Dr Van Acker has gained extensive experience in the field of diabetic foot education in developing countries. She founded and chaired the Train-the-Foot-Trainer projects, which were recently very successfully executed for the SACA region, the Caribbean region and in 2015 for Europe. She is (co-) author of many peer reviewed articles, book chapters and books, of which the IDF WDD publication "Time to Act, Put feet first" in 2005. She is clinically active as diabetes consultant and runs outpatient multidisciplinary diabetic foot clinics in her country. (today: Centre Santé Des Fagnes , Chimay). She is a consultant of the Tropical Institute in Antwerp, Belgium and a lecturer on  "Public Health" and " Chronic disease management" matters. She was in the board of "Eurodiale" group. Today she is the Chair of the International Working Group on the Diabetic Foot.